Party Poker No Deposit Bonus 2015
Party Poker is once again returning to the top of the pile when it comes to online poker rooms. Over the past years they have been somewhat overshadowed by the likes of PokerStars and Full Tilt , but 2015 sees it make a surging return with its party poker bonus. This article will give you a run through of all the ways in which you can claim your bonus via Pokerbankroll.com.
Claim your free poker money at PokerSource!
Free Party Poker Bankroll – 2015 Providers
Currently there are two ways you can claim your Party Poker bankroll, with each offering a slightly different depositing method along with sign up bonus.
All those sites we are promoting today at PokerBankroll.com are offering a starting bankroll of $50. This means that no deposit is required and you get $50 free, to play with at Party the way you choose.
Both Poker Cash and Poker Source will give you $25 on sign up with the other $25 being released as and when you have earned the required amount of  points.
Not only you get this fantastic offers, but also they will give you access to one of  the highest rated poker schools on the internet. There you can find series of videos and articles by professional poker players from around the globe with ranging skill levels and game formats. There's no doubt that Poker Cash and Poker Source really do offer the full package when it comes to claiming your free bankroll, alongside your progression.
•Don´t be a fool, get your start up capital now!•
Free $50 Party Bankroll – Poker Source
The no deposit bonus of Poker Source works similarly to that of Your Poker Cash. You will need to open an account via us to gain the promotional code of which you then enter into the client. An initial Party Poker bonus of $25 will be credited to your account and after you have cleared 150 points, the remaining balance will be accredited to you. You must complete this transaction within 30 days.
In addition there are few more offers which Poker Source is offering to all the Party Poker players and by taking advantage of them you can get $125 or $150 free. However there are slight changes of the amount of the required deposit as in order to get $125 free you need to deposit $50 and to create 100 point. Getting $150 free requires a of deposit $100 and 125 points. Even though these offer are still quite tempting for most of the players.
Free $50 Party Poker Start up Capital – Your Poker Cash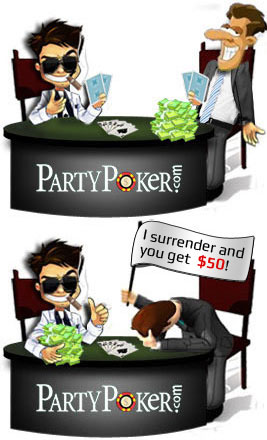 You need to work a little harder in order to get some free cash by Party Poker. The offer is that you get $25 when you sign up, then the next $25 is released after you have accumulated 150 Party Poker points.
Registration is relatively straight forward. Simply register an account through the link provided below, use the appropriate bonus code when you register with Party  and your no deposit poker will then be triggered. Unfortunately, turnarounds for the money hitting your account can vary from 10-12 days. Not ideal, but when there's free money on the line, it's worth the wait.
Free $10 Party Poker Bankroll – PokerStrategy.com
Poker Strategy is another site which is offering you $50 free bankroll  but will require you to pass a short, simple quiz in order to get them. The quiz is extremely easy and even provides you with information on how to navigate yourself to the correct answer for each question. You can take the quiz as many times as you like and have a time constraint of 2 hours in which to complete it. It's likely that even with minimal research and  knowledge, that you can complete this quiz in around 20 minutes.
The quiz is designed to get your poker brain functioning which in the long run can only be a good thing. Other competitors may offer similar amounts in initial start up capital, but none will offer the aftercare in-depth strategy and information that you need to improve and progress your  skills.
However this offer is no longer valid but Poker Strategy is frequently changing all their offers so better check what is on the go at the moment on their website.
General poker tips for the Party Poker games

When you are first starting out in your poker career it's definitely advised that you play as small stakes as possible. The main reason behind this is the fact that as you are learning you will make mistakes. If we can keep the cost of the mistakes to a minimum then it's going to make your learning process a much cheaper experience.
The players at the smaller stakes are also going to be people of similar standard to you. The higher you play, generally the higher the standard of play, making profitable results very hard to come by. As you begin to improve and your bankroll stars to grow, then you can start to look at moving up the stakes.
At PokerStrategy.com you will find poker school full of players who have started just like you today and have managed to make poker their main source of income. It takes a lot of hard work, but Poker Strategy is there to help you and refine your poker skills with their numerous tutorials and videos. In addition as many players look to poker communities in order to gain inspiration, learn new concepts and keep in touch with the latest poker news, Poker Strategy developed one of the largest poker forum communities on the internet.