Party Poker 50% Cash Back with Palladium
In these uncertain times for the online poker community, Party Poker has emerged as the shining light after a few years in the doldrums. They are now back amongst the largest online poker rooms with traffic rivalling that of market leaders, PokerStars.
Unfortunately Party doesn't offer a flat rakeback deal any longer, but it is still very manageable to receive up to 50% using their cash rewards system. The best feature about this system is that there are no sign up codes or verifications that you have to follow, simply register as a Party Poker user and start earning immediately.
Get up to 50% Rakeback on Party Poker Sign up now!
One section of their rewards structure comes in the form of a fantastic $500 deposit bonus. This is eligible for new user's only so sign up today using any of the  links on this page to qualify.
Party Poker Rakeback 2015 – Overview and Details
The rakeback program for Party Poker is actually very simple. For every dollar you earn in rake, you will receive two  points in exchange. Depending on how many points you earn throughout the month will determine what VIP status you are for that following month. With each month you must reach certain targets to maintain or improve your VIP level.
The only level in which it doesn't work on a month to month schedule is that of the two Palladium VIP levels. If you mange to make either of these then you will be guaranteed that VIP level for the quarter. Depending on which status you achieve will depend on the amount of cash back you will earn. The higher the ranking, the more you will earn.
BRONZE: Standard level which every player starts from
SILVER: 400 player points / month
GOLD: 1000 player points / month
PALLADIUM: 9,000 Player Points / Quarter
PALLADIUM ELITE: 40,000 player points / quarter
How are Party Points converted into real money?
The rewards system works very simply. As you earn points you can then exchange them in the  store for either instant cash rewards or cash bonuses. The bonuses will require you to play and earn a certain amount of points to clear whilst the instant cash will be credited directly to your account. Now it may seem like the instant cash is a better deal as you receive the money right away, however the bonuses will be higher than the instant cash so spend a little time working out which will be more beneficial for you in the long term.
♦ Sign up for Party Poker and become a VIP Member!♦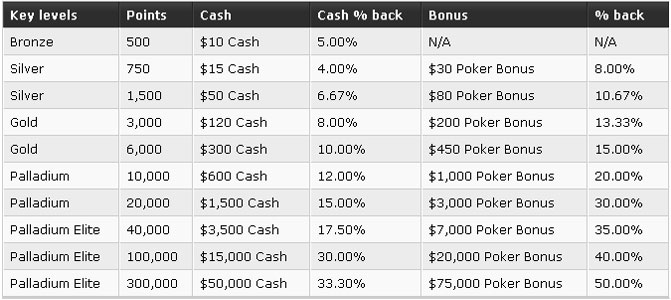 *Players can buy rewards with their points only from the same or lower VIP level.
Another advantage of taking the bonus over the cash is that it guarantees your VIP level for another month. It may seem like Party  is really plugging their bonus offers, well this is true as it keeps players playing at their site. But it also benefits players as over a longer period of time you will earn more money, hence increasing your Party rakeback percentage.
Other cash back opportunities
Each month they offes a new and exciting bonus for their existing customers. With many poker companies spending a massive amount of time and money to drive new players into their site, it's refreshing to see a company give something back to the long term grinders who ultimately make the site tick. You can stay up to date with their bonus offers by either signing up to our newsletter, checking back at PokerBankroll.com or checking the Party Poker website for the latest news and information.
They offer up a variety of different tables and game selections, but one of their most popular come in the form of the jackpot tables. These tables give an extra opportunity to the players playing there to spend a little extra money in the hope of making more money. Jackpots of over $1 million are common at Party.
Why have Party Poker scrapped their fixed rate rakeback system?
The concept was to get more players playing at Party Poker. Instead of having a fixed rate level of rakeback, the bonus scheme now in place rewards those who play more and at higher limits compared with that of the original 27% deal.
Whilst many have been put off that the flat rate is no longer available, the shrewd poker players amongst us have actually worked out that the current system is way more beneficial for them. Reaching the top level VIP results in almost 50% of rakeback, almost double the original rates.
It was a risk taken by them, and the consensus throughout the poker community was that it would be one that would fall flat on its face. Only now can we see that it was a smart move as they are rising back to the top of the online poker world. Their bonus levels are matched by very few and the rise in traffic has seen the rise of Party Poker once again.
Alternative for the Palladium Party Poker rewards system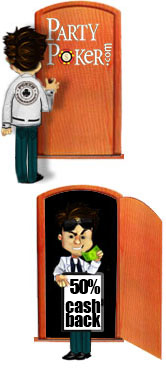 Whilst they do not officially offer any rakeback deals, at PokerBankroll.com we are working very closely to finalise some 'Under the table' deals that will become very lucrative for the high rakers amongst you. This deal will run instead of the Palladium bonus deal and may not reach the heights of the overall bonuses on off. If it's a flat rate deal you are after, then do not hesitate to contact us with your details and we will see what we can do.
By signing up to our free newsletter you will be the first to know of any deals that become available. Often these will be on a first come first serve basis, so timing is imperative.