Best Online Poker Rakeback Offers 2015
Online poker sites make the majority of their income via what is known as 'rake'. Every time you're in a tournament, cash game or sit and go, the poker room takes a small percentage of either the buy in (for tournaments and sit and go's) or the pot (cash games). Whilst the amount they skim off the top is only a small amount, over the long run these numbers really do add up.
Many online poker rooms offer what is called 'rakeback' to entice customers to play at their site. How this works is that you get a percentage of the entire rake you pay to the poker room paid back into your account. This will ultimately reduce the costs you pay, whilst making you money at the same time.
This article will show you the best poker rakeback offers 2015 and our poker rakeback calculator will give you an idea of how much money you could save via these rakeback deals.
Get up to 50% Cashback with Titan Poker
Poker Rakeback Deals and VIP Cash Back Sites 2015
In conjunction with rakeback deals, some poker rooms offer what are called VIP cash back bonuses. These bonuses work similarly to rakeback deals, but you will be given a certain amount to clear in a selected period of time.
The downside to VIP Rakeback offers is that they can take longer to clear compared to earning the same amount in a Poker rakeback deal. However low stakes players may find this more appealing as the money will get released in small increments meaning your bankroll will consistently get topped up depending on how much you are playing.
These are the leading 2015 VIP cashback and poker rakeback deals brought to you by PokerBankroll.com:
The best poker rakeback and cashback offers
The percentages in the above table represent the maximum rates of cashback; however these can vary greatly depending on what room you are playing at, your VIP level, the amount you play and the stakes you are at.
For many, your best bet will be taking one of our Poker rakeback offers, especially if you are a low stakes player as clearing bonuses can take time. To stay in touch with all our latest rakeback offers you can sign up to our free newsletter. We get new deals all the time, so the offers on this page could change. Our newsletter will keep you instantly informed of any new deals that we establish with any online poker rooms.
Rakeback Calculator 2015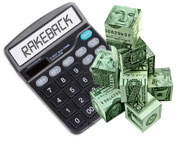 Our unique rakeback calculator provides you with the information you need to determine how much is possible to earn. Each site works slightly differently so make sure you use our rakeback calculator 2015 as only a guide.
All you need to do is enter the stakes you are playing, the amount of hours you play, your percentage and you are set to go. Once you have entered the above fields the calculator will work out how much you could save by playing at a poker site with a rakeback offer at the end of the month.
What is rakeback?
Each poker room charges what is called 'rake'. Rake is basically a nominal fee that has to be played by all players to have the privilege of playing at that poker room. Levels of rake can differ for each site, but are in the range of around 5-10% depending on which games, stakes and formats of poker you play.
If you were playing a sit and go tournament at PokerStars for example, and the buy in said $10 + $1 to play, then the + $1 would count as the rake they charge each player to play in that sit and go, whilst the $10 would go straight into the prize pool.
Cash games work slightly differently, they take a percentage of the pot. The amount is usually lower than that of tournaments due to the frequency in which they rake the pot, but you can expect anything from 1-3%. Most online poker sites do actually have a CAP on the amount of rake they take from the pot, differentiating depending on which stakes you are at (the higher you play the more they will rake).
•Sign up at Winner Poker and get up to 56% Cashback•
Best poker sites with highest rakeback offers for 2015
Like anything, poker is a competitive market place with many multi-million-pound companies all battling to get players to participate in their poker rooms. The idea behind it is just another incentive to get players playing, whilst more importantly keeping them away from rival rooms.
In the early days rakeback was only handed out to players who were either high rollers or high volume players earning the site a lot of rake. As this massively discouraged the lower limit player often players would stay away, before poker rooms started making it available to all players no matter how much they played.
Differences between rakeback and cash back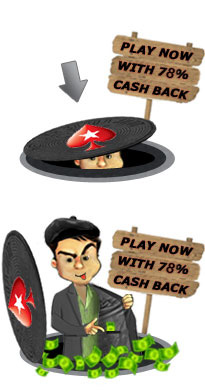 In principal both rakeback and cash back is based on how much you play at the tables and essentially how much you rake. A rakeback offer will give you a fixed percentage of money at the end of each month depending on your deal, whilst a cash back deal will gradually release your bonus in increments.
A cash back deal can be quite restricting with many poker rooms offering you points to spend in their store rather than hard cash. With a rakeback deal you are free to do as you please with your money whether that is re-invest at the poker tables or withdraw it and use it for everyday expenditures. If you are a very high volume player then a cash back reward system can work out to be higher than that of your standard rakeback program.
As you can see there are benefits and downsides to both cash back and rakeback, but hopefully this article has helped you in your decision of which one will work best for you. The common denominator between the two is that the more you play, the more you earn.
Online Poker Rakeback Deals- "Under the table rakeback"
We are currently working very closely with a number of affiliated pokersites to bring our players at PokerBankroll.com the best possible rakeback deals. These deals are totally unique to us. To learn more you can sign up for our rakeback newsletter and stay informed when we have more developments.
Often our "under the table" deals can work out as almost twice as much rakeback than that of your regular deals, so signing up could literally be worth your weight in gold.