Titan Poker Cash back – up to 50%!
For years Titan Poker were renowned for having one of the best rakeback deals anywhere on the net. Unfortunately due to recent legislations, they are no longer allowed to offer 'rakeback' as such. Instead they now are at the forefront of the poker world once again by offering a special cash back bonus. Depending on your VIP level and how much you play, you can earn up to 50% of what was essentially your rakeback deal in the form of cash rewards. Throughout this article we will look through different ways in which you can best take advantage of this very generous bonus offer from Titan Poker.
Play at Titan and get up to 50% of your money back
Unbelievably, this is not where the generosity from Titan poker ends. They offer one of, if not the, best sign up bonus of any online poker site. It amounts to a staggering 200% match up to a maximum of $2000. This means that simply need to deposit $1000 and your bonus will be matched to $2000.
Player points and Titan Poker VIP Club overview 2015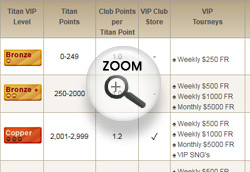 The cash back option actually gives you way more options of how you want to spend what is essentially your Titan Poker rakeback. If its hard cash you are after then you simply exchange your points in the Titan shop. Via the shop you can also purchase things such as tournament tickets and a host of gifts.
Your points are accumulated depending on how many raked hands you play at the tables. The more you collect, the higher your ranking will be. The higher your ranking the faster you will accumulate Player Points meaning your rakeback percentages will increase. The table below shows how many points you are required to make in order to reach a certain level.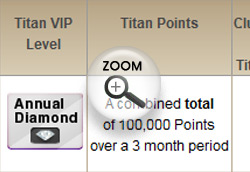 Depending on your VIP level will have a wide range as to how fast you accumulate points. The lowest levels will be around 10% whilst the higher end levels will be that of up to a 120% points boost. However many points you earn in one month will then give you your rating for the following month. If you fail to meet the required amount of points to maintain a certain level then you will be demoted accordingly. Your VIP status will last one month with no bearing on how much you play throughout that month.
Additional Benefits
Titan is rewarding generously those of its players who are gathering points in longer period of time and if you are one of these players you may take advantage of the following benefits:
All the players who are at the Bronze level will receive $1 cashback at the beginning of the month after they collect100 points.
VIP Cooper players could give up from their monthly cashcback and store their points for higher premiums
VIP Cooper players could also could also exchange their points for cash or for tournaments tokens
If players are gaining gold coins they could easily exchange them for cash, for tournaments token as or for other special prizes in the Titan Treasures.
♦Sign up here and start getting your cash back!♦
Player points, cash back and tournament tokens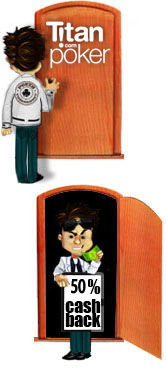 Once you have amassed enough points to qualify for a bonus then you can simply head over to their VIP club and spend your Player Points as you wish. Inside the VIP club you will see a couple of options, whether you want to exchange your points for tournament tokens or for hard cash paid into your account. Now you may be thinking this is a no brainer and to take the money, but in fact you will get a better rate of dollar per point if you take the tournament ticket. Obviously this wont suit everyone's needs as people may not want to play in any tournaments, but if you are an MTT player then have a good think before deciding.
Instant Cash bonus
The table below gives you an overview of how the instant cash bonus system works. Each level depends on how many points you have earned and what VIP level you are before giving you a summary of the rakeback percentage you can expect to achieve. Each level is totally individual based on your account and Player Points, so use the table as a guide to get a feel of what can be achieved at Titan Poker using the cash back program.
Monthly Cashback
In the beginning of every month all the players who reached Bronze level are rewarded with cash for the points they gained in the last month. Usually the maximum amount of this monthly cashback is $20 and the Titan system is exchanging your points for money automatically, directly in your account. If we need to recalculate this those $20 are actually 15 % rakeback.
Players from the Cooper level has a privilege to decided by their won whether they want to exchange their points for cash or they want to store them in order to move to a different level. In case you want to get your monthly cashback and you are at the Cooper level you need to go to the official Titan page and claim those money during the first week of the month.
Titan rakeback indexes are calculate according to the rule that 17 points are equal to $1 rake, like the lower index factors are correlating to the lower VIP levels and the higher percentages of the index factor are correlating to the higher VIP levels.
$25 – 4500 points- from 9,4% to 18,9% cashback
$50 – 8000 points – from 10,6% to 21,2% cashback
$100 – 14.000 points – from 12,1% to 24,3% cashback
$200 – 26.000 points – from 13,0% to 26,1% cashback
$400 – 50.000 points- from 13,6% to 27,2% cashback
$800 – 80.000 points – from 17,0% to 34,0% cashback
$1500 – 140.000 points – from 18,2% to 36,4% cashback
$4000 – 320.000 points – from 21,2% to 42,5% cashback
$8000- 600.000 points – from 22,6% to 45,3% cashback
$14.000 – 950.000 points – from 25,0% to 50,0% cashback
Tournament Tokens are their rakeback equivalent
We have calculated exactly what each tournament token ticket represents in terms of rakeback. We've already mentioned that in some cases tournament tickets can be worth more than the cash rewards. Make sure you check both tables to see which will work out the best deal for you and your VIP status.
$2+$0.40 Dirty Dozen Jackpot SnG – 750 points – Rakeback: 5.4% – 10.9%
$5+$1 Maui Jackpot Sit&Go – 1100 points – Rakeback: 9.3% – 18.5%
$20+$3.50 Rio Jackpot Sit&Go – 3500 points – Rakeback: 11,4% – 22,8%
$50+$9 Fort Knox Jackpot SnG – 7800 points – Rakeback: 12,8% – 25,7%
$100+$9 Turnier Token – 13 000 points – Rakeback: 14,2% – 28,5%
$200+$15 200.000 GTD Token – 23 700 points – Rakeback: 15.4% – 30.8%
*Note – To exchange your Player Points for tournament tokens you must be at least a Bronze level VIP. To take the $200+15 token you need to be Silver status or higher.
Golden Coins of Titan Treasures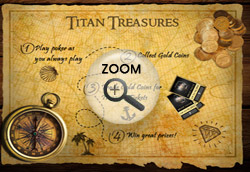 Titan Treasure is one of the newest rewarding system of Titan Poker which allows players to gather not only points but also a golden coins while they are gambling. Of course the amount of gained points and gold coins depends fully on your achievements and gaming experience. It doesn't really matter whether you are playing Titan Poker, making sport bets, betting in Titan casino or playing at their Facebook page all is counted and brings you certain amount of gold coins. So once you've gather enough gold coins you can trade them for treasure tickets which will bring you great prizes. There are three types of treasure tickets which you can trade for cash and each of them has a certain value: for 10 000 coins you get $20 in cash, 40 000 gold coins will bring you $200 in cash and for 100 000 gold coins you will get $1000 in cash. These gold coins from Titan Treasure program could be also exchanged in the VIP shop like 1000 coins will give you 2000 points or you can trade them for tournaments tokens, cash or poker articles
Titan Poker Rakeback alternative
There are other ways and means of achieving rakeback via Titan Poker, the main being via an 'under the table' rakeback deal. These require us to personally contact Titan Poker to activate your account on a fixed rate deal. These offers are strictly between PokerBankroll.com and Titan and often depend on the player's poker background and projected volume as to how much they can offer in terms of flat rakeback.
Deals such as these are struck all the time and as mentioned, we are in constant contact with Titan Poker to provide you with the best deals. To stay in touch with these deals please sign up to our newsletter. Doing so will ensure you will be the first to know of any new deals or developments on existing deals keeping you in the loop with hot of the press information on Titan rakeback. If you require more information please do not hesitate to contact us where one of our team will be happy to help.