The 6 Best No Deposit Bingo Bonuses for UK Players
We welcome all bingo players with this brief article that will help you find the best no deposit Bingo Bonus on the Internet because, seriously, who can deny that this is the first thing that we look for when we go to a new site. We've chosen the top 4 networks and cherry-picked the most advantageous offers at their best-loved sites. Enough of the promises for a good read, it's time to get down to the real facts now.
Use our promo code UK60 and grab £50 Bingo Bonus at Wink!
The first network that grabbed our attention is Fun Bingo which is powered by the software of Cozy Bingo because the no deposit Bingo Bonuses on their sites are the same throughout the network – you get £25 completely for free. The best-known sites in this network are Little Miss and House of bingo. Both allow their mobile customers to take advantage of the same free bonus. If we got you interested, you can read more detailed reviews of the operators and find a neat comparison of their offers here. Anyway, moving on with our list of famous networks, we continue with Cashcade, who have a number of the most recognisable sites in the UK and thus have our attention as well. Cheeky, is for sure the first that we want to present to you because of the huge popularity and loyal community. After a quick sign-up they will give you £5 in the first 4 weeks totalling a £20 bonus for free. Foxy will grant only a fiver to new-comers but since it comes for free, who can complain? Both operators have native iOS apps you can download from the App Store. And finally Virtue Fusion ranks third in our article, although it is the biggest bingo network that can boast unique games. Those of you who are more experienced know that the reason for the third place is very obvious, there are almost no VF sites that offer a no deposit Bingo Bonus. However, there are two exceptions – Sky who give £20 to their newbies and Bet365 with a £10 no-deposit offer.
Exclusive Bingo Bonus Codes for Our Readers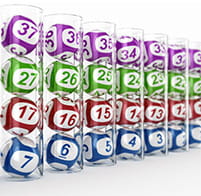 We said we've got offers from 4 networks and you see only 3, it's not a careless mistake. Quite the opposite, since the 4th network – Cassava – cannot offer no deposit Bingo Bonuses so we decided to negotiate with them exclusive bonus codes available only for our readers. It's not the same and we know it, but it's the best you will find on the Net. And it's worth to spend a few pounds to be able to play on their sites, trust us, we're bingo lovers ourselves. They have a combined loyalty programmes which means that when you become a VIP on one of their sites, you are a VIP on all of them. They offer reload bonuses, mobile games and wide range of bingo variations.
Back to the bingo bonus codes, remember that the enhanced offers will only be valid if you go to the operator's page through a link on our site and enter the promo code correctly. Wink offer £50 welcome bonus with the promo code UK60 to our readers, all the other players will get only £35. The second offer comes from an operator who knows how to treat real ladies. The bingo bonus code UK50 will grant you £40 at 888ladies compared to the regular £25 bonus.
First-Deposit Welcome Bonuses
The best no deposit Bingo Bonuses give you a chance to get to know each site without loosing even a penny, but the really generous bonuses come with a deposit – as low as it might be. Usually, players are required to put in at least tenner to trigger the welcome bonus which may equal up to £50. This is five times your initial deposit – whopping 500% – so it's worth the small 'investment'. Some sites, like the ones that run on the Virtue Fusion software have a fixed bonus and deposit requirement, so no matter how much you decide to spend, you will not get a bigger bonus. The Cassava operators, in contrast, let you choose how much cash you can spend and increase the bonus depending on the sum you put in your account.