Titan Poker Sign up Bonus Code 2015 – $2000 Free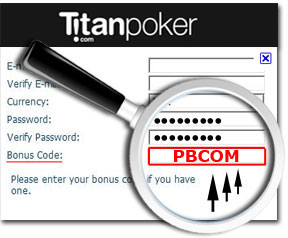 Titan Poker is once again cementing its place as one of the top online poker rooms by bringing probably the largest poker bonus anywhere on the internet. They have upgraded their once industry leading $500 bonus and scrapped it for a 200% bonus up to $2000. In addition to this remarkable bonus amount, they are giving you chances to play in freerolls with prize pools of over $2500 when you sign up a new account today. Use the bonus code PBCOM to take advantage of this fantastic offer from PokerBankroll.com.
$2000 Titan Poker bonus
Their matched percentage increased from 100% to 200%, meaning you get twice as much for your buck
Easy bonus to clear
4 free tokens for Titan Pokers exclusive first depositors freeroll
Click here and profit from a 200% up to $2000 Sign up Bonus
To take full advantage of this amazing offer and to guide you through how to go about releasing it, keep reading this article. If there is anything that you feel we could add or have any questions then do no hesitate to contact us and our team will be happy to help.
Titan Poker Registration and Bonus code
In this section of the article we will show you how to go about registering through Titan Poker whilst also showing when and where you need to enter the poker bonus code.
Titan Poker Download Software 2015
Downloading the free Titan Poker software is simple. Click on any of the links on this page and you will be redirected to the section where your download will be available. Click download and the client will be installed with the latest software on your PC.
Titan Poker actually have two options when it comes playing poker on their skin. You can download, or you can actually play via your browser eliminating the need to download. Whichever option you decide to use you will qualify for the $2000 bonus, making the decision a totally personal one.
Free registration and account opening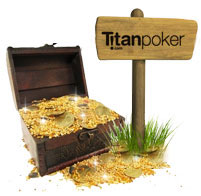 Registering an account on Titan Poker can sometimes take longer than that of other poker rooms, but for all the right reasons. As standard, you will be asked to enter personal information and then provide a username and secure password. As a follow up to these security measures you may then be asked to provide proof of address and identification so Titan can establish that it is indeed a real account.
Whilst at first it may take a bit of time, in the long term these details are all part of the effort from them to make your account as safe as possible. More often than not in poker you can be exchanging vast sums of money at the tables whilst also having large sums in your account. For peace of mind if nothing else, the security checks are ones that are welcomed by PokerBankroll.com and should be a standard procedure in the modern day poker world.
Entering the bonus code
Entering the bonus code is obviously the most important part of your whole sign up process. You literally get one chance, and one chance alone to make sure you enter the right bonus code for your account.
Make sure you keep an eye out to enter the bonus or promotional code in the box provided. Remember, miss it now and there's no way of getting it a later date.
♦Take advantage of Titan Poker bonus code of $2000 today!♦
First deposit and play
Once you have completed your application and entered the bonus code successfully, now you need to make your first deposit. To do this simply log into your account and click the cashier button on the poker client. There are numerous ways in which you can deposit, all of which will trigger your first deposit bonus.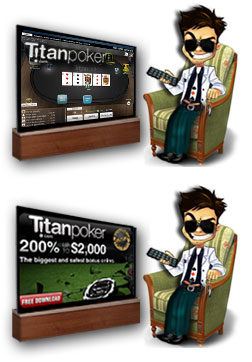 The beauty of the Titan Poker sign up bonus is that it's a 200% match, rather than a 100% match. This means that whatever you deposit, they will match AND double to produce your poker bonus. To receive the full bonus of $2000, you simply need to deposit $1000 and you are set. If you are depositing smaller amounts as your first bonus (remember that after your first deposit the bonus cannot be reloaded) then it will work the same way. So a $300 deposit will gain you a $600 bonus.
After you have successfully deposited, your bonus will become live and you can start clearing straight away at any real money poker table, whether that be cash, sit and go's or tournaments. As you play at any of these games you will collect player points which depend on buy in amounts or amount raked at cash tables. The more (or higher) you play the more player points you will earn. It's these points that at the end of the day will accredit to your bonus and ultimately start releasing your money.
To unlock one dollar of your bonus you will need to earn 50 player points until you reach 250. At 250 Titan will automatically credit you with $5 of your bonus amount before resetting and starting again until the cycle is completed and you have earned your full bonus amount. There is no need at this stage to have to apply or opt in for the bonus, just sit back, play away and watch your money go into your account.
Voucher code or bonus code?
Whilst searching about for Titan Poker bonus codes, you may have come across the term Voucher code and wondered what the difference is between the two. Well, we can confirm that there is no difference. It's basically just another name for the bonus which is popular in European countries such as France. You could say it gets lost in translation a little.
Titan Poker No Deposit Bonus
Are you looking for a free starting bankroll with absolutely no need to deposit and no obligations? Well at PokerBankroll.com we have teamed up with one of the worlds leading poker schools, PokerStrategy.com, to bring you a once in a lifetime opportunity of a free $10 bankroll on Titan  (more info at Titan Poker no deposit bonus). It's a great way to start your poker career and look to improve at the game for free!