Titan Poker Review 2015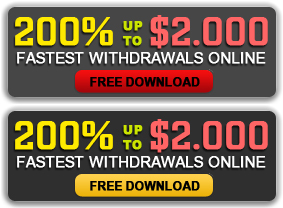 They  have been long established as one of the iPoker networks leading poker rooms. Since its emergence in the online poker world, Titan has seen itself shoot to one of the most comprehensive poker rooms currently available online. After playing on there for a number of years we feel we can compile one of the most informative reviews online. Keep reading for everything you need to know about Titan Poker, its software and the best bonuses.
♦Check out the instant play version and review Titan poker!♦
To claim your exclusive poker bonus simple enter the following marketing code  pbcom when registering a new account. Your account will then be tagged with a fantastic 200% matched bonus up to a maximum of $2000. So simply deposit $1000 to claim the full bonus amount of $2000.
Titan Poker Games Review

Titan pride itself on offering games that will cover all aspects of poker players needs, bankrolls and skill sets. With cash games starting from as little as 1c/2c ranging all the way up to $300/$600 for the higher stakes players amongst you. Pretty much every online poker room these days offer the obligatory Texas Holdem, and they are no different, but they also offer variants such as Omaha, 7 card Stud and Omaha Hi/Lo. Again each format of the game has as range of stakes; unfortunately some of the lesser known games can struggle for traffic at off peak times.
The tournament poker scene really benefits from the fact that even though you are playing on a skin, you are in fact playing over a massive network of players in iPoker. Tournaments are scheduled around the clock, again with more at peak times. Guarantees and runners vary, but you will find great value in any tournament  whether it be a freeze out, re-buy, satellite or knock-out form.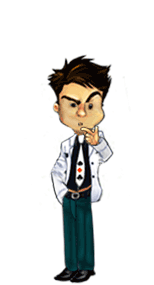 One of the main attractions why people tend to focus a high amount on Titan tournaments is the field size. Whilst it often produces a good number, it by no way reaches the heights of say, some of the PokerStars tournaments that are run on a daily basis. Playing for 5 hours in a 30,000 runner tournament can mean you haven't even made the money yet, but a tournament on the same timescale at Titan will mean you there's a good chance of you being there or thereabouts at the stage where it really matters.
Titan also has a very healthy Sit and Go scene with hundreds of games running around the clock. Some of the most popular come in the form of the Jackpot Sit and Go's where a player can win up to $50,000 by winning a set of tournaments. The level of play in these is generally pretty low with many of the higher scale Sit and go's having people who have bought in for very little and managed to satellite themselves upwards into the higher bracket games.
One of the few downsides to the Titan Poker client is the introduction of 'all or nothing' Sit and Go's. These are basically games where people pay their buy in fee, and are forced to go all in on the very first hand. The winner of the hand takes down the pot and walks away with 100% of the prize pool. There are absolutely zero skill elements to this game and we would strongly advise PokerBankroll.com users to avoid these games like the plague.
Titan Poker Software Review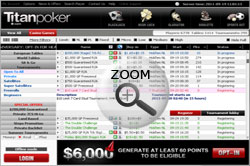 Arguably the most important feature of any poker room is its software. It doesn't necessarily have to be amazing or ground breaking; it just needs to function without any difficulties whilst providing options for the user to customise their unique lobby.
Titan Poker is one of the few poker rooms where every box seems to be ticked. Their lobby for example is simple, clean and tidy, and provides you with all the custom features you could possibly need. Their filter will remember your setting each time you open the client making finding your game of choice an absolute doddle. Each column can be customised and ranked, making it even easier to find which games are running and at what stakes. These may sound like simple features, but without them navigating your way through the lobby can be a tedious affair to say the least.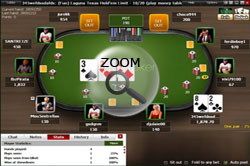 Perfectly accompanying the lobby is that of the poker table. It's this area where you'll be spending the majority of your time and once again, Titan Poker have delivered! The tables are well designed and more importantly clear. As modern poker players are starting to integrate things such as Holdem Manager and the need for heads up displays ever increase, its vital that poker rooms leave the options to have positively stripped down versions of their tables. This increases the room for stats to be placed on the table, without losing any of its functionality. Personally, using the dark theme with no avatars suits me down to the ground, providing a clean space to allow me to grind away.
One of Titan Poker's standout features is that of its integrated flash player client. This allows users to not have to download anything to their computer and merely play using their internet browser. It's perfectly suited for players using either a Mac or Linux operating system of which, neither are supported for download.
Titan Poker Review – Softest Games
A great place to start for beginners is the sit and go tables. The games are particularly soft, even at the $10 level, and can be a really solid platform of which to apply your trade and improve your poker game with a good chance of making some money in the process. Improving in your sit and go skills will naturally adapt you to Multi Table Tournaments where the prize and player pools are much larger in comparison.
Titan Poker Review – Conclusion
As Titan Poker is backed by one of the largest poker networks in iPoker, it really is the all-round package perfectly suited to the modern day poker player. The games are very soft, the cashier process is flawless, customer support is available around the clock and they provide some of the best software on the market(read more about that on our Titan Poker download page). The only downside would come in the form of the traffic for the specialist games. At off peak times especially, they can lack somewhat making it tough to get a game. On the whole, you will be hard pushed to find a more complete poker room than Titan Poker. Unfortunately they do not offer a flat Rakeback deal, but take a look at our Page dedicated to Titan Poker Rakeback and learn how you can get up to 64% of your cash back. If you are broke and still want to play check out the Titan Poker no deposit bonus page for more info on how to get a free bankroll.