Titan Poker Software Download and Instant Play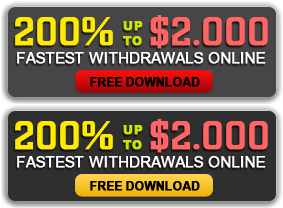 Titan poker is one of the largest poker rooms on the ever popular iPoker network. With thousands of people online at any given time, it's safe to say that there's always a game available at Titan. Throughout this article we will be aiding you in the download process of the client and showing how you can play on their software if you're a Mac or Linux owner. Titan Poker are one of a host of poker rooms currently offering instant play on their website by offering a browser based client.
•Click here and download Titan Poker – Get a massive $2000 Bonus•
Titan are market leaders when it comes to offering obscene bonus offers and we are proud that our offer is of no exception. You can currently get a massive 200% bonus worth up to $2000 by following the information on this page. That's twice the amount in bonuses for your first deposit.
Download and install the Titan Poker Software 2015
There are currently two options to play at Titan Poker. First off you can download the traditional client to your PC and use as you please. This saves time loading up any web pages to play your poker. If you are without a Windows operating system then fear not, Titan Poker have accommodated you also.
For Mac and Linux users you can access a browser based client as downloading the client is unfortunately not an option at this stage. This means that there are no downloads to be made, you simply find the site, log in and start playing just as you would if you had your client on your desktop.
1.Download

Download and install the software

2.Sign up

Use the Marketingcode PBCOM to sign up

3.Instant action

All real money games count towards Bonus
To download the client, simply navigate yourself to the Titan Poker site using any of the links on this page. From there simply click the download button and your download will begin. Installation only takes a few minutes, but you will be prompted with actions to take along the way such as folder destination and acceptance of the terms and conditions. These need not be changed, however if you feel the need they can be easily edited.
If you are worried about getting the most up to date versions then fear not. Whilst more often than not the link that you follow to download the client on the Titan Poker site will be the most up to date, even if this happens to not be the case an auto update comes with every installation of the Titan Poker Download. This means that every time you load the client it will find the latest version and download that if necessary.
Titan Poker – Mac and Linux Users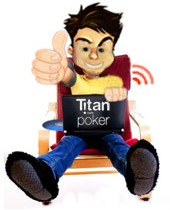 As with most programs in the computing world, many are only available to Windows users, with systems such as Mac and Linux left in the dark somewhat. Whilst this stands steady in the poker industry things are starting to improve. Even though there is no actual downloadable software for Mac or Linux users, Titan have provided a web based client where they can enjoy the same games, but from the comfort of their own browser. It's not an ideal solution, but it offers instant play for all users. There are handfuls of users who actually prefer the instant play browser version to that of the downloadable client as they find it easier to use. For many it's just personal preference.
Free Titan Poker Instant Play!
Playing  on your browser couldn't be easier witht he Titan Poker instant play features. The likes of Google Chrome, Internet Explorer and Mozilla FireFox are all compatible. All you need is the suitable flash or java extensions on your browser and you set to start playing immediately.
Flash updates are very common and can be quickly download. If your browser doesn't have Flash enabled or needs updating, then simply Google the term 'Flash/Java update' and you will be directed to the right page in which to update your software.
Registration and Account Creation
So you now have your poker client either downloaded or the browser ready in which to play. The next step is to create an account which will be easily identifiable for you, but more importantly safe against any fraudulent activity that may take place. To overcome these enter a username, password, email and correct contact details when signing up. It's also at your sing up stage that you need to enter our  bonus code PBCOM to claim the 200% up to $2000 poker bonus.
Titan Poker Download and instant Play differences
The poker download version comes with all the bells and whistles you would expect from a poker client. There is nothing on the instant play browser feature that isn't on the downloaded version. Having your downloaded version means that there is no need to go to certain websites to play any poker. Having a separate program running for your poker enables you to play more tables and have access to more features both on and off the virtual felt.
The instant play feature makes them much more accessible to the masses. Mac and Linux users now have viable options to play online poker on sites which don't support the client download to those operating systems. The fact that you don't have to download yet another poker client is also a big draw for many poker players. Over time the rooms can really start to rack up on your computer and you can lose track as which sites you have money on and what your account details are.