Everest Poker Review and Personal Experience 2015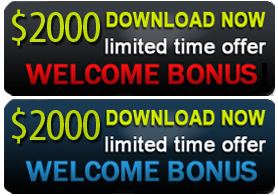 I've been playing over at Everest Poker for a number of years now and have seen it develop from a small time poker client to one of the fastest growing, most established online poker rooms in the business. Throughout this article I will be looking at their very own online poker school, the standard of their games and also a look at the current bonuses they have on offer for both new and old poker players, make sure to read my Everest Poker Review entirely.
Download Everest Poker and review it for free!
The first thing any new player must do before even registering an account at Everest Poker is to secure a unique bonus code from PokerBankroll.com. Once you have done this simply insert the code PBCOM upon creating your account to receive a fantastic 200 % match bonus up to $2000. As soon as your account is created you will be able to start clearing the bonus straight away and earning your free money.
The new Everest Poker Room
Everest Poker is undoubtedly one of the oldest online poker rooms. Probably many players are familiar that in the past it wasn't an independent poker room and was mainly directed to the french players.Even though Everest manage to gained a lot of its popularity though sponsorships of one of the biggest international poker tournaments. In the last few years due to the pressure from the French government Everest was forced to separate both french and international players into two different poker rooms which cost them a lot of financial loses and highly decreasing traffic. After a period of struggling they finally took the decision to become an independent poker room and to join the huge iPoker network. It should be admitted that this was one of the best decisions that Everest made. Through the network all Everest players could not only enjoy large games variations including iPoker Speed Holdem but also take part in many international poker tournaments. Both Everest and iPoker are experiencing the higher jump in the number of players as well as many other benefits from this cooperation.
Beginner friendly games

Over the years Everest had proved themselves as one of the best places for a beginner players to start their poker career. The wide variety of offered low limit games makes it an ideal hunting ground for players who want to learn and apply what they've learned. ESpecify game offered by the old Everest poker room was designed in its larger part specially for beginners. This hasn't changed after Everest joined the iPoker network, but currently players could enjoy even more game variations and even higher stakes. Beginners can still play for low limits, while experienced players can now finally put their poker skills to higher limits and test how good they are. The only disadvantage for the beginners after Everest join iPoker network and start using Playtech software is that they removed their school. However probably removing is not the best expression as they still kept a part of what they had before but in far more simplified form. The old Poker school which was placed on the Everest site was one of the best out there and now beginners could only receive a brief and easy to understand overview of the rules of the few most popular games – Poekrvarianten Texas Holdem and Omaha. In addition, they get basic tips and tricks of how to avoid most common mistakes which beginners made.
♦Play at one of the most beginner friendly poker sites♦
Easy to Use Software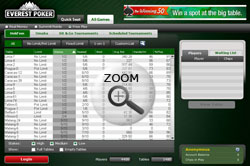 After joining the iPoker network Everest start using the software of Playtech, one of the largest and oldest software developers throughout the iGaming sector. What new software offers is an easy to use, very clear and simple lobby. The clear match offers require just a few filter functions so the player could find easily the desired game. One useful feature of the software is the Quick Seat feature which allows you set a certain specifications and after than the software finds you immediately the next available table which matches your requirements.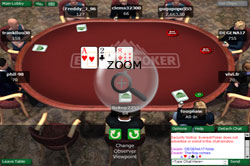 The poker table is kept as clear as possible. We should also take a look at the graphics as despite the simple design everything is done to be comfortable for the players and not to distract them with unnecessary animations. For the player, it is of essential importance to use all the functions quickly, everything to be easily accessible and information related with the stacks and players actions to be presented in an easily to spot size. Undoubtedly Everest could only benefit from using Playtech software which was tested and improved over the years. Anyone who has experienced something and play more cash games and Sit & Go's at the same time may want to operate the multi-tabling up to 16 tables here as well. The only real gripe in my Everest Poker Review, however, is the lack of clarity as with so many windows open you can try to arrange all tables automatically and adjust them by size, but this is only recommended with a second monitor otherwise it will be too messy.
Everest Poker Review 2015 – Conclusion
I've played on many poker sites on many networks with varying degrees of success over the past few years. It's safe to say that Everest really is up there with the best, that made it easy for me to write an Everest Poker Review. It's a great place to start as a poker player and the offers it poses for beginners and intermediate players alike will provide a great platform on your poker journey(some of them you can see at Everest Poker rakeback).
The games aren't as big as in places like PokerStars and Full Tilt, and the player pool is only a fraction of the size, but it's possibly this reason which makes them so great. It's very refreshing to see a poker site that puts its customer support at number one whilst also offering a steady stream of games to players of all abilities and bankrolls. You simply must take advantage of their $2000 bonus, and if you do decide to open an account today best head over to Everest Poker download right away.
Free Starting Bankroll
If you are searching for Everest no deposit bonus we suggest you to check out our Everest Poker no deposit bonus page where you can find more information about the PokerStrategy offer and see how you can claim your $10 free no deposit bonus.