Everest Poker Rakeback 2015 – Up to 48%
At this Point Everest Poker doesnt offer flat rakeack but you can still get up to 48% of your Cashback via the Vip Summit Club.
If you sign up today you will be automatically  entered into the Everest Poker VIP program (Summit Club). The Summit club allows users to benefit from 48% cashback,  included in this deal is a stunning $2000 bonus when you create an account today. The bonus is widely regarded as one of the easiest to clear on the internet to date.
Play at Everest Poker and get up tp 48% of your Cash back
VIP and Points Calculations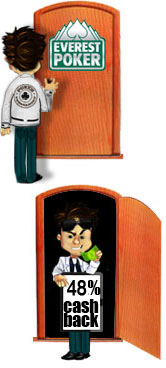 The collection of Summit points work on a monthly format. Basically you start earning points when you participate at any real money table. For every $1 of rake you earn, you will receive 8 summit points. Different stakes will have an effect on how quickly you earn your Summit Points.
For each month that you play at Everest Poker you will be awarded a VIP level depending on how many points you earned in the previous month. This status will stay with you no matter how many hands you play in the month, however it will be altered at the end of each month, resulting in varying VIP levels depending on how much you play.
VIP Level Overview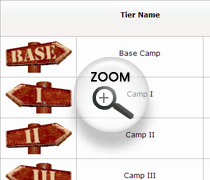 Each player starts with the first level "base camp". As mentioned, the points you earned over the previous month will reflect on your VIP status for the following month. Once you've reach a new status lever, during the entire month as well as during the next one, you can take advantage of the corresponding with that VIP Freeroll offers. Everyone who gathered certain amount of Summit Points will be also rewarded with extra points credited directly to their poker accounts and the additional points premium is what indicates how many extra points you are going to get because of your VIP status. So after we made an overview of the different status levels, we will show you how you can turn that points into a real cash and what is the amount of the rakeback you will get.
♦Enjoy Everest Poker now and start collecting your summit points!♦
Cash Bonuses Multiplier and Rakeback Calculation 2015
The new cashback system of the Everest VIP Club was not only simplified significantly but also the potential cashcack jumped from 32% to 48%. For every dollar as a rake paid for cash games and tournaments you will get 8 Summit Points. The exact values of your rakeback depends on the chosen premium and point multiplier given the appropriate bonus points for the VIP level you are collecting the points at. The smaller rakeback value is calculated from the exchange ratio bonus points / cash ratio you turn your reward points earned at the lowest VIP level Basecamp excluding bonuses bonus multiplier – could you, the upper value is the highest rakeback when you gather at the Summit Level 600% extra bonus points .
Below you can find the list of available cash rewards, the necessary bonus points and the corresponding rakeback percentages:
$2,50 for 625 points – corresponds 3,2% up to 22,4% Rakeback
$5 for 1225 points – corresponds 3,3% up to 22,8% Rakeback
$10 for 2375 points – corresponds 3,4% up to 23,6% Rakeback
$25 for 5800 points – corresponds 3,5% up to 24,1% Rakeback
$50 for 11.000 points – corresponds 3,6% up to 25,5% Rakeback
$100 for 21.000 points – corresponds 3,8% up to 26,7% Rakeback
$250 for 50.000 points – corresponds 4,0% up to 28,0% Rakeback
$500 for 90.000 points – corresponds 4,4% up to 31,1% Rakeback
$1000 for 160.000 points – corresponds 5,0% up to 35,0% Rakeback
$2500 for 375.000 points – corresponds 5,3% up to 37,3% Rakeback
$5000 for 700.000 points – corresponds 5,7% up to 40,0% Rakeback
$10.000 for 1.300.000 points – corresponds 6,1% up to 43,1% Rakeback
$15.000 for 1.750.000 points – corresponds 6,9% up to 48,0% Rakeback
Everest VIP Rackeback Conclusion
The Everest VIP program is designed to be very friendly not only for beginner players. The rakeback is not just with the basic values of less than 10%, but can be increased very quickly while you are climbing the different gambling VIP levels. After reaching the firts five of ten levels you can get a 200% bonus on bonus points, which will triple your effective rakeback. For beginners, it is very easy, even with a less playing to improve their cash rewards fastly. Futhermore the experienced players who collects many Summit Points can even reach up to 48% rakeback without putting that much efforts into that. In addition every player get access to daily, weekly and monthly freerolls with prizes up to $5000 just because of its VIP level.
Everest Poker Rakeback Alternative
If all of the above bonuses and cash back offers still don't appeal to you then there are other options, such as an 'under the table' rakeback deal. Whilst we are still in negotiations with Everest poker as to what we can promote, you can be sure to find all the latest information on any new and upcoming deals directly from our Newsletter. To sign up to our newsletter simply enter your details in the box below.
Whilst these sorts of deals are legitimate and payment is guaranteed, we do appreciate a certain amount of discretion if you decide to take this opportunity up with us. If you have any questions or would like to find out more information on our rakeback offers then please do not hesitate to contact one of our highly trained rakeback team who will be happy to help.