PokerStars Cash Back – 78% VIP Club Rakeback
PokerStars have been the largest online poker site for many years now and they continue to be at forefront of development and technology for any poker client. As the largest online poker room, they also have one of the best rewards scheme known. Whilst they don't offer a flat rate rakeback program, through their cash rewards and VIP bonuses you can amass an amazing 78% Pokerstars rakeback, by far the highest we have seen at PokerBankroll.com
Sign up to Pokerstars and get up to 78% of your cash back
On top of this unbelievable offer they will also match your first deposit to the tune of $600. All you need to do is simply enter the marketing code upon registering a new account and your deposit will then be tracked meaning you can start earning immediately.
Player Points – The difference between FPP and VPP
The rakeback you earn at PokerStars relies solely on how much you play and how many PokerStars points you earn. Let's take a look at how these points equate into real money.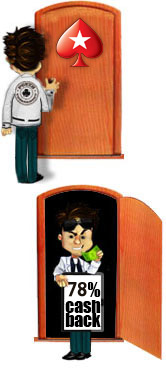 When you play on any real money poker table at PokerStars you automatically earn what are known as VIP Player Points (VPP). This is something that every player earns and at a set rate no matter what your ability or the stakes that you play. From this, PokerStars calculates Frequent Player Points (FPP) depending on what your current VIP level may be, ranging from Bronze, Silver, Gold, Platinum, supernova and Supernova Elite.
Each VIP level will come with a separate multiplier, the higher your rank, the higher the multiplier number. So for every VPP you earn you will earn x amount times that number. Whilst your VPP number will be reset at the end of the month, your FPP will remain in your account for you to spend on cash rewards or bonus in their VIP store. The more you accumulate, the higher the reward you can purchase.
You generally get 5.5 VPP per dollar of bonus at any given real money table. These amounts vary deepening on game type and variant, but 5.5 is used as a general rule. For each raked dollar in the pot the VPP are then distributed to all the players on the table evenly who have contributed at some point to the pot.
♦Take part in the Pokerstars Vip Program to get up to 78% Rakeback!♦
VIP Level status overview
The two tables below give you an overview of the status of each VIP level, the VPP needed, bonus multiplier and the rakeback rates for each level.
All VIP levels are run on a month to month basis except two. Supernova and Supernova Elite will remain until the end of February on each year, no matter when you first activated the level. These periods may be extended depending on how many VPP you have earned in a certain amount of time.
PokerStars Cash back from the VIP Store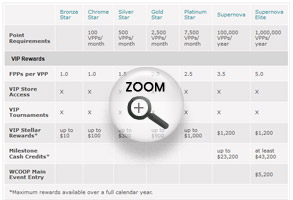 The PokerStars VIP  offer a wide range of products of which you can spend your hard earned FPP on. Everything from books, DVDs, clothing, apparel, concierge services and cars can be found in the store.
Included in the store is that of cash bonuses and stellar rewards. The two work very differently. Whilst the bonuses will require you to play a certain amount of raked hands to fully clear, the stellar rewards are instant cash and available to all players of PokerStars.
The new milestones that have been introduced also pave the way for even more bonuses on offer. Again it rewards players for consistently playing at the site whilst also making some of the smaller rewards accessible to those who maybe don't play as much or play lower limits so have difficulty raking as much money for the site.
Stellar and Milestone rewards 2015
The Stellar rewards program can be bought for only one FPP but are based on how many VPP you earn throughout the year. If you were to clear the whole of the stellar bonuses then you would be rewarded with a tidy sum of $1,200.
The milestone bonuses are really aimed at the high raking players. To clear the whole amount would take an insane amount of time, effort and more importantly, raked hands. But, if you were to complete it a payday of $136,000 would be waiting for you at the end, which is truly staggering amount of money to be getting back from a poker room.
The two tables below give you an overview of each rewards system and the points you need achieve for each level.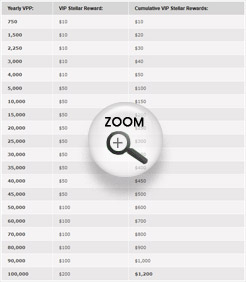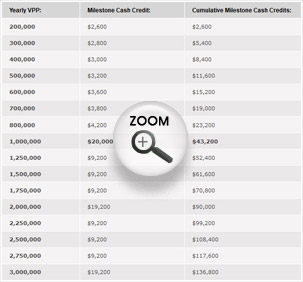 There is no doubt that PokerStars have one of, if not the, best VIP rewards program online to date. Staggering amounts of money are on offer and if you are a high volume player, then you probably shouldn't be looking anywhere else other than PokerStars. Even the lower stakes players are duly accommodated with bonuses that they can realistically clear and start to boost their bankrolls.
Some players find that not having a flat rate rakeback system can become complicated and prefer to stay away from the tough to clear bonuses. Take a look at the next paragraph for more information on how you can receive an under the table Pokerstars rakeback deal.
PokerStars rakeback alternative
At PokerBankroll.com we are currently working very closely with PokerStars to bring our readers the best under the table rakeback deals. We realise that not every player wants to be tied down to a bonus that will take time to clear and would like the flexibility of flat rate rakeback del. Whilst the numbers on offer won't work out to be as high as that compared to all the bonuses, stellar rewards and milestones, a competitive rate will be had for all.
For more information please subscribe to our newsletter or contact our affiliate team with your information so we can accommodate the best deal possible. Any developments for any of rakeback or bonus deals can be found in our newsletter. Subscribe below!