PokerStars Review and Evaluation 2015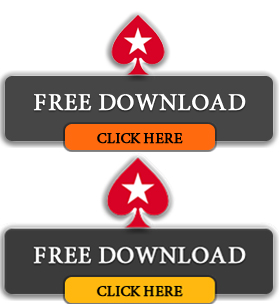 There's no doubt that PokerStars is the largest and best online poker room currently available. They offer a world class service and software that up until now, has yet to be matched, or even closely run. Throughout this article we will be giving you an extensive PokerStars review along with information on their current bonus deals, sign up process and bankroll management tips in order to help improve you as a poker player.
•Download the biggest poker room and review Pokerstars yourself!•
PokerStars Games Review

It's common knowledge that PokerStars is by far the biggest online poker site in the world. The main reason behind this is simply the amount of games they run. Everything from Holdem, Omaha, Triple draw, Stud, Badugi, Omaha Hi/Lo and many more are all regularly participated in at PokerStars. One of the key differences with all these mixed games is the fact that they actually get traffic, and around the clock. Many sites may offer these games at their poker client, but few actually manage to get the amount of players in the games that PokerStars do.
The amounts of cash games are simply staggering at PokerStars. They run everything from 1c/2c to $200/$400 and sometimes even higher than that which makes it a great place to not only play, but also to watch some of the high stakes games. The 'railbirds' often congress at night just to watch the obscene amounts of money being thrown around on the virtual felt. It's quite a sight!
Players from around the globe flock to play at PokerStars which is one of the main reasons as to why it has steady streams of traffic even at non peak hours. In fact, their off peak traffic is often higher than that of their rivals peak traffic, underlying PokerStars' market dominance in online poker.
PokerStars Software Review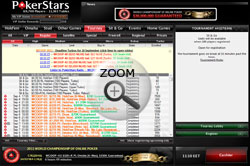 It's one thing offering a host of games readily available, attracting a wide variety of players, but to keep these players coming back you need to back this up with some solid software. PokerStars have managed this in abundance with a highly customisable, sleek, error free poker client. Every feature you could possibly imagine has been implemented into the software to produce by far and away the best software online.
One of the most refreshing aspects to PokerStars and their views on online poker is that they are willing to listen to the 'little guy' who plays their games day in, day out. Taking part in threads on poker forums around the world allow Pokerstars to understand what people want and do their best to make sure that if something needs changing, they do it sooner rather than later. It's this interaction with its customers that has been a breath of fresh air in the poker community and a big reason as to why they have such a large and loyal following.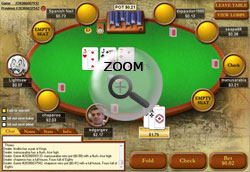 The tables themselves are also very customisable and with features that really add to the experience of playing at PokerStars. The ability to play up to 24 tables (sometime more if you are playing sit and go's) and to do so without bugs or glitches in the software is a great achievement.
If for some reason you are still not happy with the current setup of either the poker site or client, then there are thousands of modifications which can be purchased and implemented on your client again making it 100% unique to you. These modifications don't clash with the software at all and whilst PokerStars would rather you used their modifications, they are still happy for you to use 3rd party mods.
The PokerStars software is also very stable in terms of downtime or dropouts. Any scheduled maintenance that has to be undertaken is announced to users with plenty of warning and any downtime that I have come across in recent months has been minimal (if there was one at all). As their software continues to develop and be updated, older computers may start to struggle in the running, so bare this in mind when looking to update.
PokerStars Bonus Review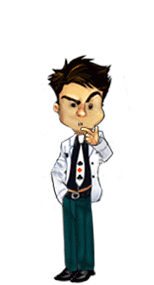 If you are new to PokerStars (where have you been?) then you can qualify for a fantastic sign up bonus. As you may expect it's one of the best in the business. Let's take a look at some more information on the PokerStars deposit bonus.
When registering an account you simply need to enter the following marketing code into the bonus box: pokerbankroll.com. After doing so your account will be triggered where you can take advantage of a 100% match deposit bonus up to $600. This means that whatever you deposit up to a maximum of $600 will be matched and tagged to your account as a bonus.
Your bonus will be released in increments of $10 and you get a staggering 180 days to clear this bonus before it becomes void. The length of time is worth its weight in gold alone as most poker rooms will offer you 30-100 days only to clear your bonus. We have found that it's also one of the easiest to clear in terms of how many hands you need to play to clear it. It once again underlines PokerStars' complete dominance in the online poker world. It is noteworthy that you can clear the bonus on top of the Vip program, learn more about that on our page dedicated to Pokerstars Rakeback.
Free PokerStars Bankroll
One of the hardest things for any poker player when starting out in their poker journey is producing the start up capital to get their feet off the ground. At PokerBankroll.com we have teamed up with one of the leading strategy sites to bring you a free $50 when you sign up with PokerStars. All you need to do is simply click any of the PokerStrategy.com links on this page before registering an account, completing a short, simple quiz and select PokerStars as your poker room of choice. It really is that simple. For more information visit our PokerStars no deposit bonus article.
PokerStars Review 2015 – Conclusion
It's clear to see why PokerStars are the largest online poker room in the world. They have the best software(read about that at PokerStars download), best customer support, best game variants and most traffic. What else do you need?
Thinking back of any negatives, well there are very few. In fact, I can't think of any as to why people wouldn't want to play to PokerStars. I'm certainly not going to finish this review on a negative so I will leave you with the thought that to compete with PokerStars, other online poker rooms are going to need to massively step their game up, and soon.